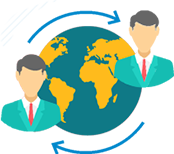 Global Suppliers 全球供应商
Global Suppliers is a special membership for China Companies & Merchant Traders which is a gateway to unlimited buyers and sellers and enomous business opportunities.
ExportersIndia.com, the largest searchable B2B marketplace and Exporters Directory, has opened a gateway for China Premium Suppliers to expand their business prospects in India and all over the world. This China Exporters Directory is an ultimate Chinese Market Place for China Suppliers and China Exporters that facilitate trading with Indian buyers and seller. At this China Business Directory, all Chinese traders will be able to get genuine trade enquiries for their offerings. Here, China Premium Suppliers can meet, initiate, share, and gain from underlying trade opportunities..
Why Choose Global Suppliers?
Trade with Global Buyers

Associate with international companies to improve sales & business growth. The Premium Membership offers opportunities for global business expansion but with remarkable savings of time and costs.

Maximize Your Buyer's Enquiries

Reach buyers from around the world in a few clicks, promote your business and see the sales figures shoot up.

Premium Company Website

Get a special website that represents your business online. Get content and promotion managed by experts.
Our Clients
We will work with you to create your ideal Catalog
Contact Us